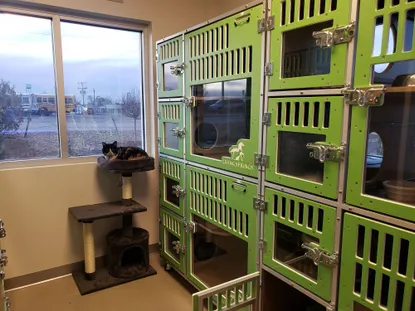 Living Springs Veterinary Care is pleased to provide Boarding and Daycare!
So, the next time you're away, your pet has a place to stay.
*Professional Experienced Staff
*New Clean Facility
*Indoor & Outdoor Runs
*Walks & Outside Playtime
*Owner Directed Feeding
*Peanut Butter Filled Kong Treats Available
*Experienced in Administering Medication
*Baths Available
*Pet Updates Available
*Full & Half Day Daycare Available
*Fully Insured
Dog Boarding-
Our standard runs are 4 feet by 6 feet inside and 4 feet by 8 feet outside, with free access between inside and out through the day, provided the weather is not inclement. Our runs are safe and provide a comfortable area for your pet. We also provide 1 midday walk or playtime to keep your pet happy and active.
Cat Boarding-
Each kennel has a climbing "perch" and two hiding cubbies. Most kennels have a window view, and all can see the saltwater fish tank. Non-clumping or scoopable litter can be provided depending on your cat's preference.
Doggy Daycare-
Dogs will be placed in supervised groups in the play areas. However, in inclement weather dogs will be placed in our indoor/outdoor runs if outdoor temperatures are under 450 F or over 850F. Full day and half day daycare is available.